SEABISCUIT'S LEGACY
Seabiscuit's Legacy weaves a story of courage, hope, and healing from past to present and illuminates the transformative power between horses and humans.
"The people's champion" and top money winner of his time, Seabiscuit, was the famous racehorse who captured the heart of the American nation. His most memorable win was a race against Triple Crown champion "War Admiral," where he was considered the sure underdog. Seabiscuit eventually retired to Ridgewood Ranch in Northern California, where he happily lived out his life.
Undersized, overlooked, and underrated, Seabiscuit became a phenomenal success through the treatment by his owners, his trainer, and his jockey. And not only did these men help empower Seabiscuit, but he also helped each of them heal an aspect of their lives. These transformations all took place at Ridgewood Ranch, nestled in an idyllic valley near the town of Willits.
Today at Ridgewood Ranch, Seabiscuit's healing legacy continues. The ranch is now host to the Seabiscuit Therapeutic Riding Center, a horse interaction program that provides services to improve the lives of children and adults who are challenged physically, developmentally, emotionally, and socially.
Willits also shares a key part of Seabiscuit's legacy. In 1926 Charles Howard, Seabiscuit's owner, helped fund the Frank R. Howard Memorial Hospital after losing his son in a tragic accident. In 2015, a new state-of-the-art hospital opened and was renamed Adventist Health-Howard Hospital.
Our film will take an in-depth look at the lives of those closest to Seabiscuit and the positive effect he had on them. Plus, we'll…
watch seasoned horse trainers demonstrate how Seabiscuit was transformed under the care of his trainer
witness the healing connection between horses and humans, and listen to equine therapy specialists discuss this fascinating topic
meet the children whose lives were positively changed by horses
hear from just a few of the extraordinary people whose lives were saved because of the hospital founded by Seabiscuit's owner
listen to celebrities discuss the astonishing life of Seabiscuit
AND, we'll present never before seen archival footage from the Howard family and Ridgewood Ranch.
The seed of this story took root in the heart of producer and lifelong horsewoman Leigh Anne Lindsey. In 2014, she was asked to film a dedication event at Ridgewood Ranch, the property next door to her family's ranch. Leigh Anne began to learn of the incredible legacy left by Seabiscuit and was curious to know more. After being introduced to the therapeutic riding program at Ridgewood, where she saw how the horse-human connection helped children and adults cope with challenges in their lives, Leigh Anne was inspired to tell a story that had never been told. 
Leigh Anne teamed up with fellow filmmakers, John Osborne and Nadia Jordan, to create a documentary that will showcase the positive, uplifting story of Seabiscuit, and also bring awareness to the pivotal work of the Seabiscuit Therapeutic Riding Center, the Seabiscuit Heritage Foundation, and the Frank R. Howard Memorial Hospital.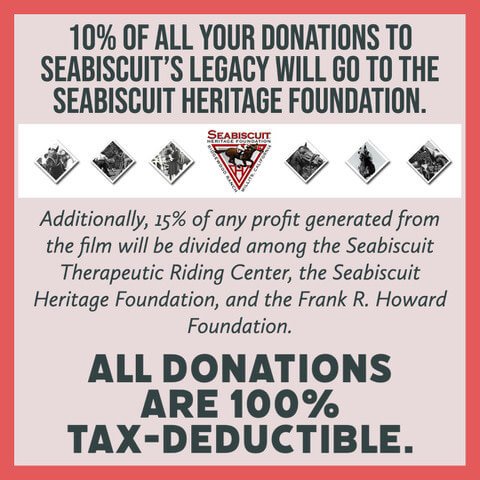 Leigh Anne Lindsey
Producer | Writer
Leigh Anne is a producer who is also a part-owner ​of ​the Southwestern portion of the original "Home of Seabiscuit" in Mendocino County. With various ​projects in development under Sea Storm Studios LLC​, Leigh Anne ​has filmed, edited, and produced online tourism shows, business videos, and film festival promo reels. She also conducted interviews with​ attending​ filmmakers​ and celebrities for ​over 6 years with the Mendocino Film Festival​. Earlier in life, when living in ​Aspen, ​Colorado, Leigh Anne was​ ​a rock radio DJ who produced radio commercials and edited films for TV. Later, while living in Silicon Valley, she helped ​international ​tech ​companies ​thrive and grow through strategic alliances and venture capital fundraising efforts. ​​Leigh Anne lives and works among the redwoods along the rugged Northern Sonoma County​ coast ​with her black cat Onyx and black and white paint horse Jax.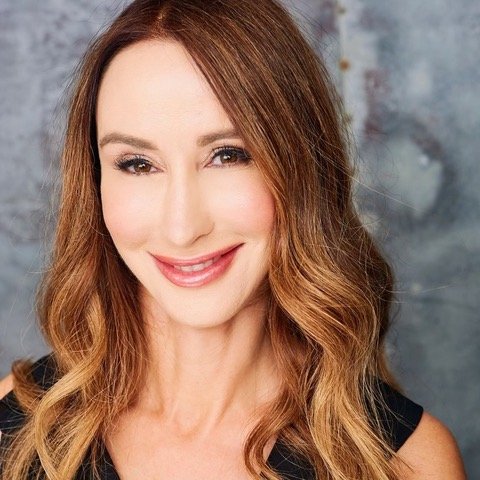 Nadia Jordan
Director| Producer
Nadia is an award-winning filmmaker from London. Having grown up around horses, she has a deep affinity for them, and her first job was with the only live broadcaster of horse racing in the UK. After a successful career as a marketing executive, Nadia transitioned into producing TV and film, working for renowned British companies BBC, ITV, and Channel 4.  She later relocated to Los Angeles and worked alongside multiple production powerhouses before setting up her own company – Fluffy Cat Productions. Fluffy Cat's first feature – For the Love of George – which Nadia produced, co-wrote, and co-directed, starred Rosanna Arquette, Tate Donovan, and featured George Clooney. The film won numerous awards and was released worldwide. Nadia has several TV and film projects in various stages of production, including two films alongside Academy Award-winning producers and actors. A graduate of the Sundance Directing Lab, Nadia is a visionary director whose meticulous attention to detail is apparent in every aspect of filmmaking. Nadia is a member of the Directors Guild of America and the British Academy of Film & Television Arts.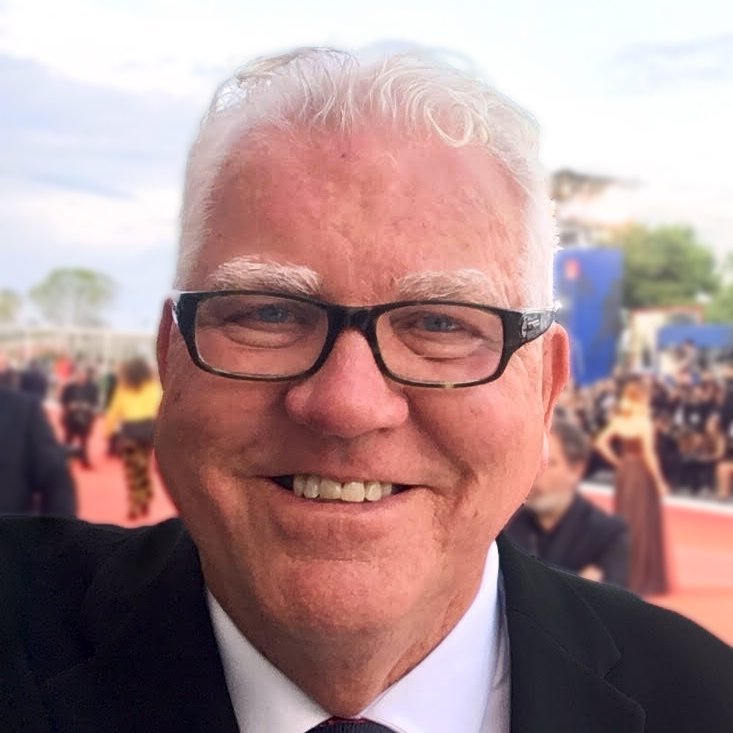 Dr. John Osborne
Producer | Writer
A retired film professor, John has worked in production and as a producer on several mainstream and independent films, including Need for Speed, Timecrafters: The Treasure of Pirate's Cove, and recently, Dean Martin – The King Of Cool. He runs a film production company in Mendocino, California, and is often called upon by visiting movie companies to help as a production manager or location scout. As the Associate Programmer for the American Documentary Film Festival (Amdocs) in Palm Springs, California, John travels throughout Europe seeking films to showcase. He has served as a moderator and juror in many film festivals. John is also involved with the Mendocino Film Festival, presenting live interviews with attending directors, producers, and cast on Facebook.
My wife Lynn & I are proud to endorse the producer's endeavors to create an inspirational documentary about the historical events which surrounded a little horse named Seabiscuit.
My great-grandfather would have been pleased that it will benefit special needs children who gain healing through horse therapy, the gardens which feed the patients at the nearby hospital first built by my great-grandfather, and the Seabiscuit Heritage Foundation so that generations to come will continue to be touched by his indomitable spirit.
We proudly support the production of Seabiscuits Legacy as it portrays a story of courage, hope, and healing. We believe Seabiscuit's owner Charles Howard – who helped build the original hospital in 1928 – would be thankful for the ongoing attention and positive impact Seabiscuit continues to have all these years later. Our mission at the Frank R Howard Foundation (based on Howard's vision) is to establish, promote and support programs that maintain, as well as improve, health care for the community of Willits and the entire Northern Mendocino County area.
Seabiscuit was one of the greatest racehorses that ever lived. He was a beloved popular icon of the 1930s, a rags-to-riches hero who captivated and uplifted a nation, stricken by the Great Depression.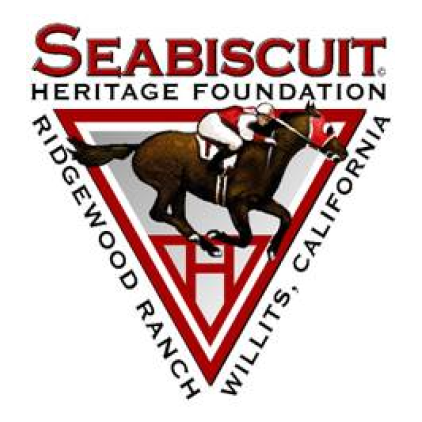 You can contribute to our production by making a tax-deductible donation to our fiscal sponsor, the Seabiscuit Heritage Foundation, with a note: "For Seabiscuit's Legacy documentary." Thank you!
The Seabiscuit Heritage Foundation then gets 10% of every donation which helps them preserve the buildings and conserve the land at the Home of Seabiscuit, Ridgewood Ranch.